INDONESIA TO ERASE YACHT TAX
Published on 25.07.2018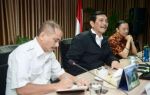 GAME CHANGER FOR INDONESIA YACHTING?
Tourism Minister Arief Yahya say that a 0% tax for Yachts would impact on the increase of state revenue in the tourism sector. It was conveyed by the Tourism Minister in a Coordination Meeting for the Proposed VAT Luxury Goods for Foreign Yacht Deletion Discussion at the office of Coordinating Ministry of Maritime Affairs.
Read the full article here
Vabella has been closely advising on this over the past 10 months and in addition to the addition revenue profen studies from other markets in South East Asia have shown that eliminating the tax brings furhter benefits.
1) creation of on average 25 jobs per yacht on and offshore
2) spending of an average of US$ 2.5 million in onshore assets by yacht owners
Vabella Marine supports Tourism Minister Arief Yahya's suggestion as it will create jobs for the 1.3 million unemployed fishermen and make the over 10 planned and commenced Marinas on the beautiful Indonesian archipelago financially viable.